Articles
Inspiring the next generation of state leaders
A novel leadership program for state of Arizona employees launched in July and will host its second cohort in October. The State of Arizona Leaders Connect program hosted 25 people representing 21 agencies at the Flinn Foundation on July 14-15 for a series of master classes, networking and insight for what it takes to be an executive leader in state government.
The SALC program's goal is to inspire agency leaders to higher levels of public service and a deep commitment to building a stronger Arizona. The state is a complex enterprise, and the career paths of state leaders are diverse and dynamic. Current and past agency leaders, elected officials and industry experts led presentations and critical discussions that covered leadership style, risk assessment, media, the state's organizational structure and more. 
The agenda was designed to further equip cohort members for future challenges and develop opportunities for connection, networking and mentorship.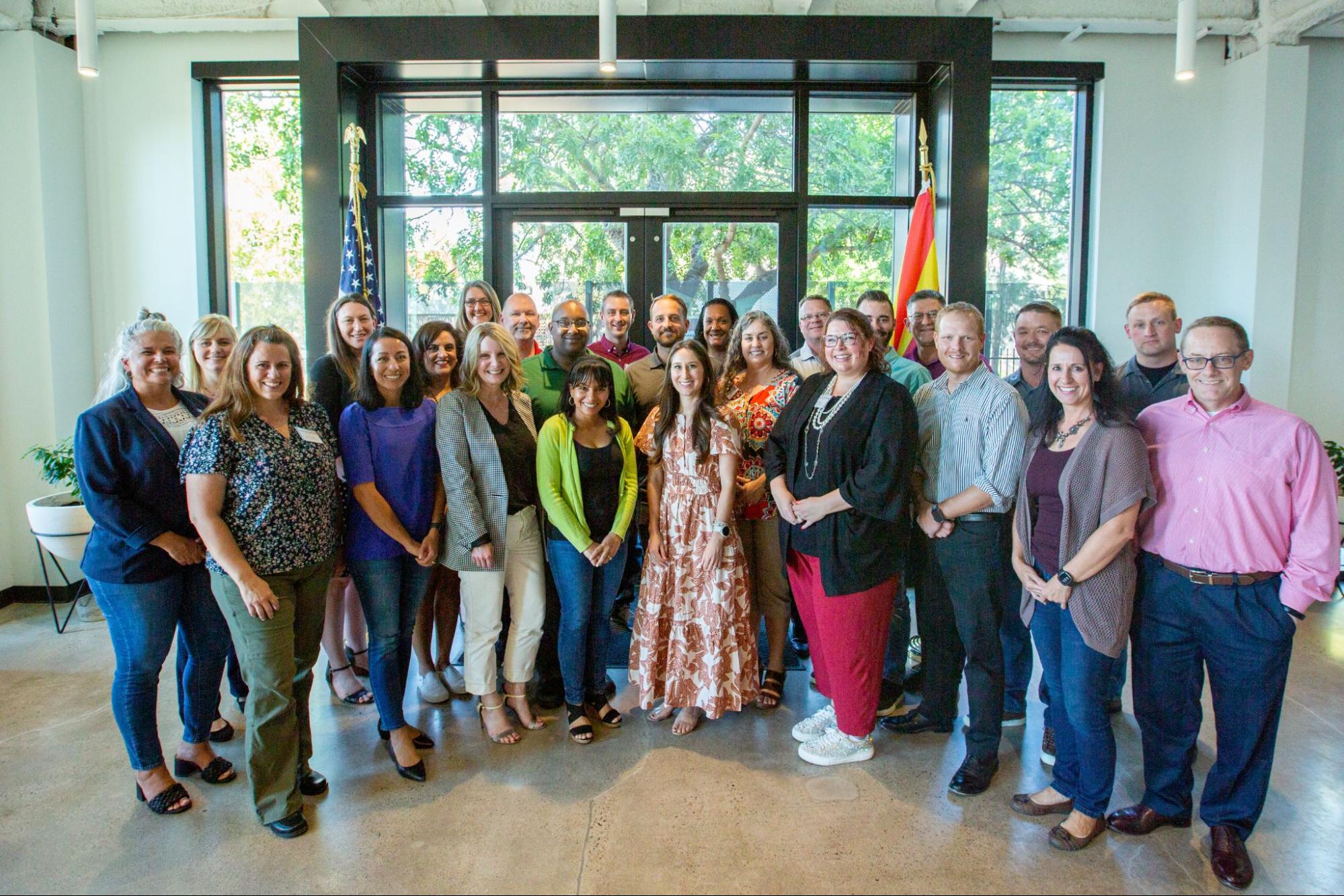 "Not having an enterprise-wide focused leadership program has limited the state's ability to transition new leaders who already have many leadership skills to effectively lead at the statewide level," said Sarah Rose Webber, chief operating officer for the state of Arizona. "We hope to bridge that gap through the SALC program.This program will create a network of leaders who have a state-wide perspective on the issues facing Arizona and the leadership skills to solve them". 
Speakers included former Sen. Jon Kyl, Arizona Supreme Court Justice Hon. Kate King as well as leaders and former leaders from 
Office of the Arizona Governor

Department of Education

Department of Veterans' Services

Department of Economic Security

Department of Public Safety

Arizona Commerce Authority

Department of Environmental Quality, 

Department of Emergency and Military Affairs

Department of Health

Department of Administration

AHCCCS

Arizona Lottery

Department of Transportation

Department of Child Safety

Arizona Chamber of Commerce

Ascent Media Agency

KTAR

Arizona Agenda

Predictive Group

Rounds Consulting Group
Feedback from the cohort was that SALC offered valuable lessons in leadership from people who know what it's like to lead agencies.
"This leadership cohort was an excellent experience," said Art Smith, business and finance administrator at Arizona Department of Juvenile Corrections. "It was valuable in terms of getting the opportunity to connect with other leaders throughout the state and to connect with leaders in positions that we may aspire to statewide. It was great to not only get an idea of their thought process and situations, but also just their general philosophy on leadership and how a young leader can further develop in the future. I really appreciated the opportunity."
Survey responses also made clear the program's impact on the participants.
"I came away from the program with pages of notes that will guide me in becoming a more effective leader."

"After the conference, I know that humility is the number one thing that is going to help me grow. I accept that I might know a lot about very little, but I know very little about a lot of what makes Arizona such a great state to live in."

"Confidence and humility are two major traits of a great leader. This has really stuck with me and helped reaffirm my leadership style."

— July 2022 SALC survey responses
Continuous improvement was top of mind to the group of SALC organizers, which included the Office of the Governor and the Department of Administration. Survey feedback indicated that future cohorts might want to hear more about media training, problem solving and Kaizens and have more opportunities to network and connect. 
The next cohort of 25 will convene in October; participants are nominated by agency directors and then chosen by a selection committee after completing an application.